Welcome to our Website! ~ Candy makers in New England since 1914 ~
You have reached the site of the fourth generation and original members of the Nelson's Candies family famous for selling our old fashioned fudge and candies at New England Fairs, hence the term "As Famous as the Fair Itself!"

Click on the menu above to view pages or products.
Scroll down to see our photo galleries below.

Online ordering is now available for in stock items. Keep checking the site as we gear up for preparing all your favorites in the coming weeks.
Our showroom will be open as usual for the holidays each day until December 24th.

We ask that customers please call ahead between normal seasonal shop hour times, for special orders, and/or to be sure someone will be here to serve you.

Please check our site often as our seasons change and we add or remove specialty items according to each season. Check out our full line of products by clicking onto the menu at the top of the page.

Special notice to our customers, our shop and family are no longer affiliated with the Wilton N.H. location since it was sold in 2019, nor is Wilton associated with the Deerfield Fair or events in which our family is associated with.

Due to a high volume of online ordering everywhere, package delivery times may be delayed. All orders are always processed, packaged and mailed within a day or two of placement. Please feel free to give us a call with any questions or concerns you may have about shipping.

Most orders for pick up will be ready 1 to 24 hours after placement. Sometimes even sooner depending on size and availability. We ask that you call ahead to make sure your order is ready when you come. Large orders will likely take extra time so feel free to call to check availability and lead time. Please keep checking the site as our seasons change and new product is added to our Products page. If there is something you are interested in and don't see it listed here, chances are we will have it, so just give us a call at 207-474-8973 or email us through the Contact us page with any questions you may have. We also fill custom orders for wedding, baby, anniversary and more so please inquire if there is something we can do for your next event.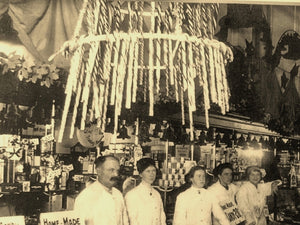 In the Early Years
Handmade candy canes are hung with care as the crew geared up for Christmas time at one of the first candy stands in Lowell Massachusetts owned by our Great Grandparents, Allen and Annie Nelson.
A Family Tradition
We are a fourth generation small candy making company and members of the original Nelson's Candies Family that were originally from Lowell Massachusetts starting back in the early 1900's. Our family is known throughout New England at the fairs selling our homemade old fashioned fudge and candies such as our peanut brittle. We are most famous at the Deerfield N.H. Fair among many other shows and venues.
Hence the term, 
"As Famous as the Fair Itself" stamped on our boxes. So remember if it doesn't come in the white box with the blue lettering and our logo, you didn't buy it from us!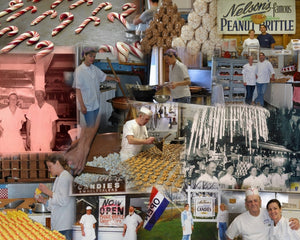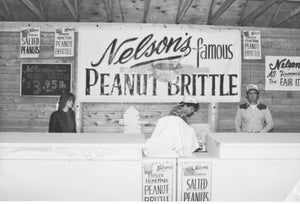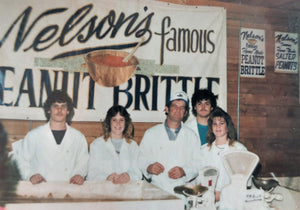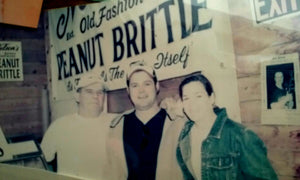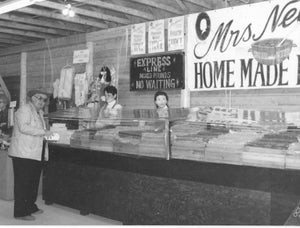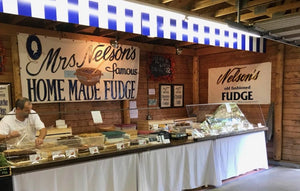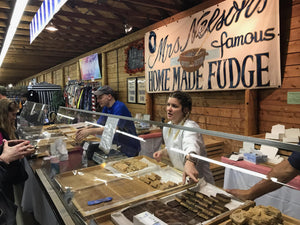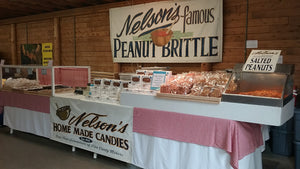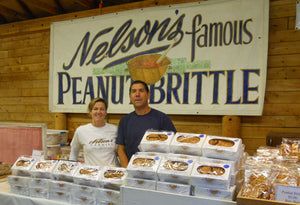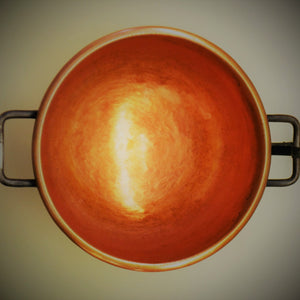 Through the Generations
We continue to use our Great Grandfather's original old fashioned, from scratch recipes and his original copper kettles that date back to the early 1900s. Our family is proud of the fact that they have passed through the hands of each and every one of our family members of candy makers and have been passed down through the generations of more than 100 years. It is an absolute honor to have and use these kettles knowing the love of labor they have produced over the years along with many wonderful family memories.

Below are photos of our newly restored 1925 Model K kiss wrapping machine, made by Package Machinery Company in Springfield Massachusetts. We use this to wrap our homemade caramel kisses. Compliments and gratitude go out to my Dad for helping us to achieve this awesome goal of continuing an old tradition.