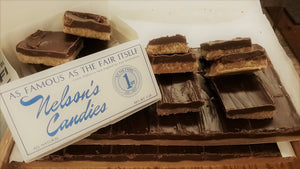 Nelson's Candies Cornville
Famous Homemade Fudge (Our Own Old Fashioned) Pound Box
Regular price
$13.95
$0.00
Unit price
per
"As Famous as the Fair Itself", as our Grandfather described it, and designed the original logo for our family's candy boxes for the New England fairs many years ago. This is the same fudge you buy at our booth in Concession building #2 at the Deerfield State Fair in New Hampshire. Our old fashioned fudge is made from scratch using our great grandfather's recipe and cooked in his original copper kettles. We use the freshest ingredients and start with granulated sugar. We add butter, milk, real vanilla and real chocolate. When you bite into our fudge it will have a granular texture that makes it unique. You will taste a freshness we assure you will get from all our products. Our penuche is made with brown sugar, real vanilla and has a flavor that will take you back in time. The peanut butter fudge is made with lots of fresh creamy old fashioned peanut butter and our chocolate just speaks for itself. This is old fashioned at it's best. Remember if it doesn't come in the white box and blue lettering with the logo, you didn't buy it from us. 
This is a great corporate gift idea!
Gluten free.
Comes in a one pound box.
---
Share this Product
---